Tee Time: Golf Package
Reserve our Tee Time package to enjoy daily golfing at one of the three 18-hole courses on historic Jekyll Island. This package is available for one or two golfers and includes:
Luxurious accommodations for one or two golfers
One round of golf daily (includes cart) at one of Jekyll Island's 3 beautiful courses
Transportation to and from the course via hotel shuttle
Book online, or call 866.716.8108 and reference rate plan LBPKG1 for one player or LCPKG2 for two. To reserve your tee time once you have booked your package, please contact the hotel at 912.635.4545.
Terms & Conditions
© 2017 Starwood Hotels & Resorts Worldwide, Inc
Jekyll Island Golf Courses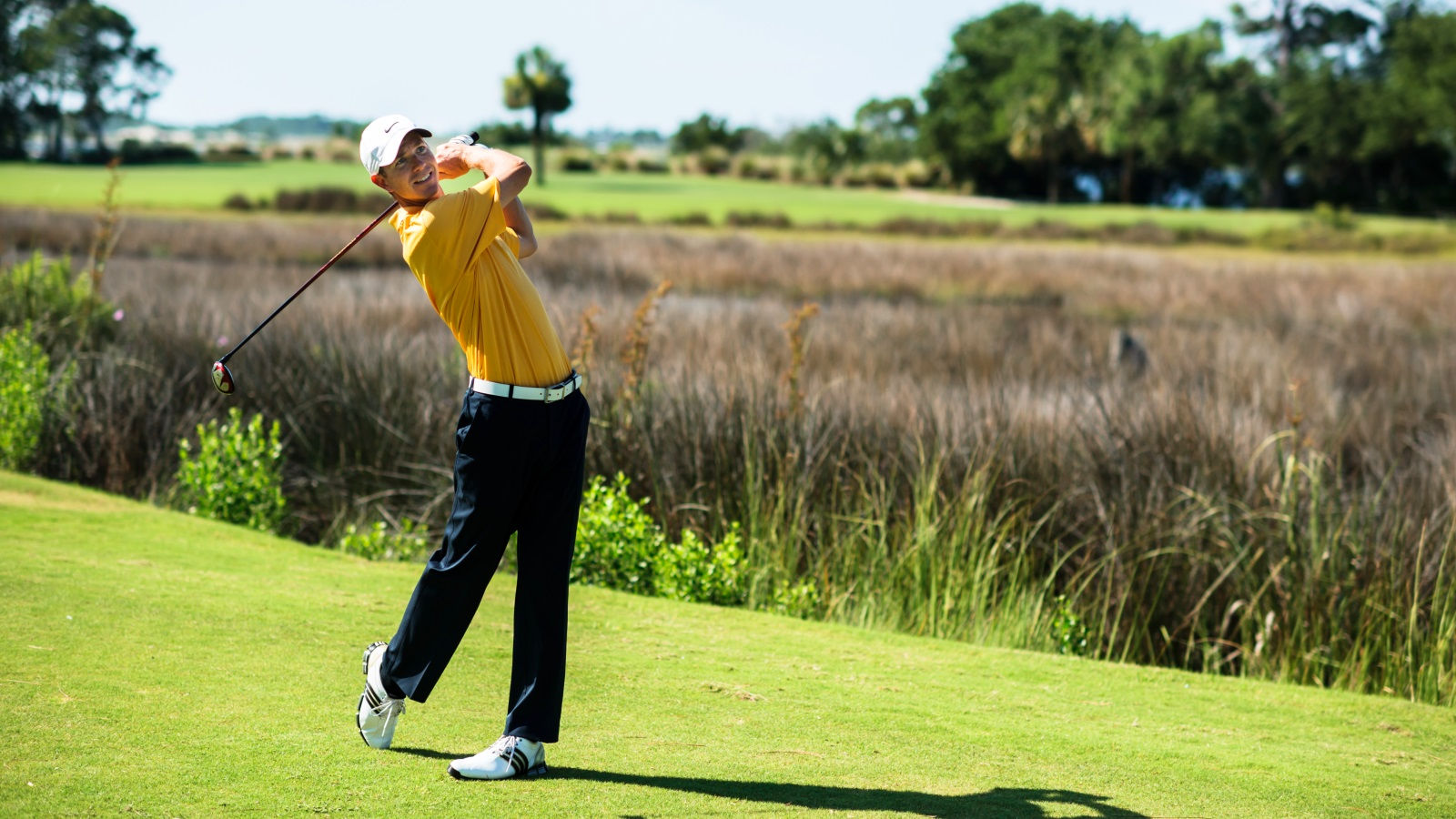 Pack your golf clubs when you retreat to The Westin Jekyll Island and play one of three 18-hole golf courses or the 9-hole Great Dunes course. The Jekyll Island Golf Club is located just 1.2 miles from the Westin or a short 3 minute drive, and available via hotel shuttle. The absence of any homes or development on Jekyll Island's courses offers a unique experience for today's golfer. Immerse yourself in nature, and focus on every shot with only an occasional disruption from deer, alligator, osprey or other wildlife.
---
See below for pricing and descriptions of Jekyll Island's beautiful courses.
Pine Lakes
Pine Lakes and Indian Mound share several attributes because of their side by side setting, with Pine Lakes being a little more modern in terms of its bunkers, and Indian Mound getting much of its challenge from undulating greens.
Due to the fact that golf course architect Joe Lee had a hand in both layouts, sand will be a serious factor. Fairway bunkers are generally a modest concern off the tee, with Clyde Johnston's renovations on Pine Lakes making them more in play for the longer hitters. Lee mixes up his green side bunker pattern on both designs increasing the need for accurate approach shots.
Both courses are fairly open off the tee, with water not a serious factor on a majority of the holes. However, the tree lines on Pine Lakes are dense in spots and errant tee shots will not be treated kindly. At 6,700 yards from the back tees, Pine Lakes is the longest of the trio, but is by no means a lengthy course, at least not until you reach the 18th hole. Accurate tee shots on all of the holes are required to score well. Pine Lakes measures 6,300 yards from the white tees and is a nice fit for mid handicappers, with the 18th the only hole with any serious length. Part of Johnston's renovations involved installing several kid-friendly tees, and families who play golf together will find few (if any) courses that can accommodate younger players better.
Indian Mound
Indian Mound is the shortest of the 18-hole trio at 6,469 from the back tees, but is comparable length-wise from the next set at 6,221. The par 5s are more difficult than the modest yardage might suggest and only one of the par 3s can be considered a soft touch, with the par 4s offering a number of scoring opportunities to those able to take advantage of short shots into the greens.
Oleander
Oleander is the oldest and generally considered the most difficult of the three courses, serving as the host course for the four years that the Georgia Open was played on Jekyll. Designed by Dick Wilson, one of golf's most respected architects, Oleander is the oldest and most distinctive of the three courses. With its tight tree lined fairways and the abundance of water in play, Oleander is the testiest of the three layouts. Oleander measures a modest 6,521 yards from the back tees and 6,177 from the whites, but if you don't keep it in the fairway the yardage numbers are irrelevant. One of the few holes where length is a concern is the par-4 12th, one of several holes that are exposed to the breezes coming off the ocean, with water very much in play for golfers of all ability levels. From the fairway, Oleander is not a particularly difficult layout, but keeping it in the short grass is a real task in itself, with the ability to shape shots from the tee a handy skill to possess.
Great Dunes
A stop in at the Great Dunes nine is not something to be missed. The course features several holes with some of the smallest greens you will ever encounter, one of the most unique par 5s in existence, and one of the most difficult par 3s without water you'll ever play. Great Dunes represents what is left of Jekyll's original layout from over 100 years ago and is a real treasure because of the glimpse it provides into a bygone era.